Our Team
---
Directors
Brian Stoner, Ph.D.
Director and Principal Investigator
Brian Stoner, Ph.D.; Principal Investigator (PI), is Director of Duke's Center for WaSH-AID (Water, Sanitation, Hygiene and Infectious Disease) and Visiting Distinguished Fellow in Global Health Technologies at RTI International. He is also a Research Professor in the Dept. of Electrical and Computer Engineering at Duke University with a secondary appointment with Duke's Global Health Institute, a materials scientist with expertise in the synthesis, processing, and characterization of materials using electrical, electrochemical and plasma techniques. At Duke, he leads multidisciplinary programs in Global Health Technologies with an emphasis on integrating expertise across engineering, social science, economics and policy to address complex global challenges. He holds 28 U.S. patents related to novel microelectronic materials and systems, and has authored or co-authored two book chapters and more than 200 scientific publications.
Email: stoner@duke.edu
Jeffrey T Glass, Ph.D., M.B.A.
Co-Director & Entrepreneurship Lead
Jeffrey T. Glass, Ph. D., M.B.A.; Co-PI & Entrepreneurship Lead, is the Senior Associate Dean for Education and Learning Innovation, a Professor in the Electrical and Computer Engineering Department, and the Hogg Family Director of Engineering Management and Entrepreneurship in the Pratt School of Engineering at Duke University. He has been a member of advisory boards for several start-ups, the interim CTO of a start-up during a leadership transition, conducted due diligence for venture capital firms, consulted for fortune 500 companies, and testified as an expert witness in patent litigation. He has published over 140 papers and book chapters, edited six books, is a co-inventor on 15 patents and is an ISI Highly Cited Researcher in Materials Science.
Email: jeff.glass@duke.edu
---
Team Members
Sonia Grego, Ph.D.
Associate Director
Sonia Grego, Ph.D., directs the global field testing of transformative sanitation technologies prototypes, particularly in India, and leads the diagnostics and sensor technology programmatic area. She has been developing engineering innovation for health for 15 years with expertise in sensors, systems miniaturization and tissue bioengineering.  Her research interests include sensors for digital sanitation solutions and technologies for early detection of disease, with emphasis on smart toilets for diagnostics at the individual and community level.  She has served on NIH review panels for 10 years, served as co-chair of multiple symposia, co-authored more than 50 scientific publications and has been awarded four patents.
Email: sonia.grego@duke.edu
Brian T. Hawkins, Ph.D.
Associate Director of Technology Development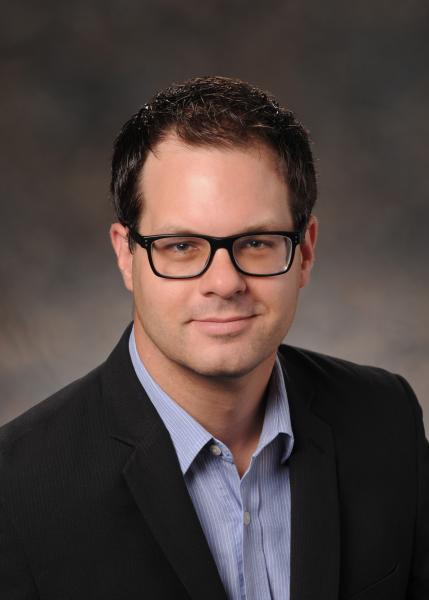 Brian Hawkins, Ph.D., is a Research Scientist in the Duke University Center for WaSH-AID, where he serves as Associate Director of Technology Development. In this capacity he is responsible for the planning and execution of the Center's efforts in technology development.  Dr. Hawkins oversees multiple research and development programs, coordinates technology partnerships with both academic institutions and private industry, and engages in technology-focused, client-facing business development.  His primary focus is accelerating the transition of promising technologies for sustainable waste treatment from the laboratory into the global marketplace. 
Prior to joining Duke, he worked at RTI International and the University of Washington School of Medicine, and completed a postdoctoral fellowship at the National Institute of Environmental Health Sciences. He holds a BS in Chemistry from the Georgia Institute of Technology and a Ph.D. in Neuroscience from the University of Arizona. He is a co-author of more than 40 peer-reviewed research publications, review articles, and book chapters, and serves on the Editorial Board of Water and Environment Journal.
Email: brian.hawkins@duke.edu
Edgard Ngaboyamahina, Ph.D., M.B.A.
Research Scientist
Edgard Ngaboyamahina, Ph.D., M.B.A., is a Research Scientist in the Department of Electrical and Computer Engineering and the Center for WaSH-AID, in the Pratt School of Engineering at Duke University. Dr Ngaboyamahina leads R&D activities that encompass wastewater disinfection and malodor control. His research has focused on the growth and characterization of thin films for energy and water treatment applications, with a focus on electrochemical techniques.
Prior to moving to the United States, he worked with established French companies. With the Commercial Strategic Directorate of Eléctricité de France (EDF), the main French electricity provider, he analyzed the White certificates scheme from an economic perspective. At the Atomic Energy and Alternative Energies Commission (CEA), he developed new materials for electrical vehicles' batteries. Dr. Ngaboyamahina received his Ph.D. in Process Engineering and Advanced Technologies from Pierre and Marie Curie University. He completed in parallel a Master of Business Administration (MBA) from the Collège des Ingénieurs in Paris (France). He also holds two MSc degrees in Physicochemical Process Engineering and Analytical Sciences and Instrumentation from Paul Sabatier University in Toulouse (France).
Dr. Ngaboyamahina is also interested in entrepreneurial activities and in understanding the various models of commercialization in resource constrained environments (e.g., so-called "bottom of the pyramid" approaches), especially those applied to sanitation technology. In the early stages of his career, he created a recording label, the African Music Enhancement Records (AMER), dedicated to the promotion of urban African music.
Email: edgard.ngaboyamahina@duke.edu
Katelyn Sellgren, Ph.D.
Global Field Testing Lead
Katelyn Sellgren, Ph.D., serves as project manager for the field testing of transformative sanitation technologies prototypes in strategic locations globally, particularly in India. She has developed innovations in decentralized waste treatment systems, with expertise in pathogen disinfection, process optimization, prototyping, and system deployment. Her research expertise includes tissue bioengineering, biomimetic cellular constructs for drug screening, and bioassay development. Her interests also include prototyping and development of smart toilets for precision medicine and population health.  She holds a B.S in Chemical and Biomedical Engineering and a Ph.D. in Biomedical Engineering from Florida State University. She is co-author of 17 peer-reviewed publications.
Email: katelyn.sellgren@duke.edu
Mara Shurgot, M.A.
Associate Director of Communications
Mara Shurgot, M.A., joined the Center in 2018 and leads outreach and communications. Prior to joining WaSH-AID, she worked at the Duke University Talent Identification Program (Duke TIP), the last seven years as director of international programs leading educational initiatives in India and China. She earned a Master of Arts in Writing from the University of San Francisco and an undergraduate degree in English from the University of California, Los Angeles.
Email: mara.shurgot@duke.edu
Lena Trotochaud, Ph.D.
Research Scientist
Lena Trotochaud, Ph.D., joined the Center for WaSH-AID in July, 2018 as a Research Scientist with the liquid treatment team. Her current research involves (physico/electro) chemical methods for remediation of aqueous pollutants relevant to WaSH-AID technologies, with a particular focus on increased compliance with ISO standards. More broadly, her research interests include novel materials and composites for effective and low-cost capture of trace water contaminants and contaminants of emerging concern (CECs).
Prior to joining Duke, Lena was a postdoctoral researcher at Lawrence Berkeley National Laboratory, where she was recognized as one of the "2018 Women @ The Lab" awardees. Her research at Berkeley lab was conducted at the Advanced Light Source using ambient pressure X-ray photoelectron spectroscopy to study the degradation of toxic organophosphorus compounds on metal oxide surfaces. Lena earned her BS Chem. (2009) at the University of Georgia and her PhD (chemistry, 2014) at the University of Oregon. Her PhD dissertation work focused on synthesis of characterization of metal oxide electrocatalysts for water-splitting solar-to-fuel technologies. Please feel free to contact Lena for opportunities involving K-12 educational outreach, mentoring, and public engagement with scientists.
Claire Welling, M.S.
Associate in Research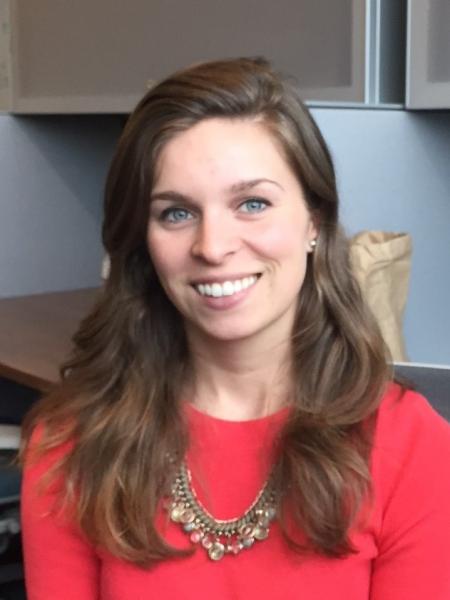 Claire Welling, M.S., serves as an Associate in Research at Duke working under the Sanitation Technology Platform supporting field testing of transformative sanitation technologies prototypes, including data analysis, record keeping, and preparing written communication for partners and clients. Prior to working with Duke, Claire worked for Durham County focusing on the local municipal wastewater treatment plant and sewer collection system, overseeing upgrades, developing a resiliency and redundancy program, and maintaining a GIS model of the collection system. She received an M.S. in Environmental Engineering from Virginia Tech focused on wastewater treatment process optimization. 
Email: claire.welling@duke.edu
Emily Wiegand, M.P.A., M.A.
Program Manager
Emily Wiegand, M.P.A., M.A., is the Program Manager for Duke University's Center for WaSH-AID. She is an experienced Program Manager with a demonstrated history of working on complex multi-million dollar development projects focused on the Economic Development, Higher Education, and Water, Sanitation, Hygiene sectors. She has successfully managed programs at local, regional, and international levels. Her experience in enhanced operations, project management and relationship building has helped to increase project efficiency and effectiveness. She holds a Master of Public Affairs (M.P.A.) in Nonprofit Business Management and Master of Arts (M.A.) in Philanthropic Studies from Indiana University-Purdue University, Indianapolis.
Email: emily.wiegand@duke.edu